Something new for this blog, I decided to do a regular SOTW (Style of the Week) post and I'll be featuring different models with different styles on this blog per week. :bib18: So for this week's model, it would be all about Mr. Heydar Hosseini.
Heydar is a good friend of mine (personally). We are studying on the same school and we'd usually hangout every once in a while. He motivated me to continue my dream as a fashion stylist/makeup artist and photographer. He was the one who introduced FIP (Fashion Institute of the Philippines) to me.
Well anyway, I had a quick interview with him and you can reading below. :down:



Photographer: Rxandy Capinpin; Styling: Ryuji Shiomitsu; Grooming: Robyn Calma


1. Tell us more about Heydar Hosseini.
Heydar is a simple guy from the city of Zamboanga. I just turned 19 years old – young. I am currently handled by Calcarries International Agency. I am still studying and currently taking up BS-Electronics Communication Engineering. I used to be a youth ambassador for PH-USA back in the year 2007-2008. I play lots of sports and x-country running is my fave.

2. When did you start modelling? was modelling your dream before?

Philippine Fashion Week Fall/Winter/Holiday 2011: Brands: Penshoppe, Memo; Photographer: Paul Cortes; Designer: Bang Pineda.
My modelling path started on the month of May 2011 for the PFW (Philippine Fashion Week) holiday 2011 season. The guys from the industry eventually found me on facebook. That is how powerful facebook is.
Nah! Never thought of doing any of these ever in my life before. I wasn't even aware that I am capable of doing these things. Everything happened unexpectedly and it is treating me nicely. I used to be just a reader back then, but now I see myself in the publications. It made me realize that nothing is impossible.
3. Who inspired and motivated you into modelling?
Myself, clients and my mentors in the industry. I wanted to test my capabilities and limits in life. The smiles and the good feedbacks of the people I have worked with is one of my energy sources. My trusted mentors in the industry also made a huge impact in my life. They guided me throughout my career, and thank god I got the trusted ones. I treat them as true friends and not as workmates.
4. What is your favorite ensemble?
Long-sleeves polo shirts or loose shirts with slim fit jeans. Epic!

Photographer: Seven Barretto; HMUA: John Valle
5. What is your advice to others who aspires to be a model too?
Pick the right guys and never give up. Get your body and mind in shape. As simple as that. :sparks:
CHALK July 2011 issue, page 7.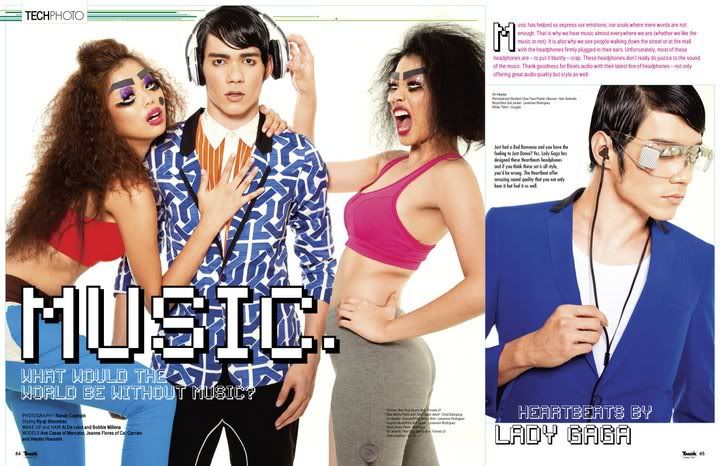 Tweak Magazine PREMIER Issue.

Philippine Fashion Week Spring-Summer 2012.
Manila Bulletin.
That's it for Mr. Heydar Hosseini. Who will be my next SOTW? stay tuned. :halik: :nono: