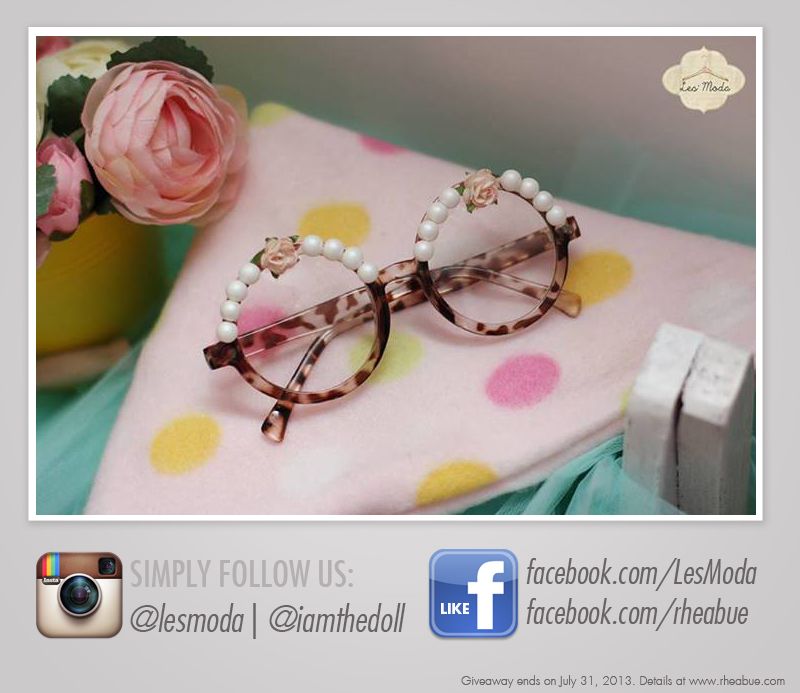 I'm so happy to announce another mini giveaway for everyone! July is definitely a fun month for giveaways! yes? YES!!! :uptum: For this giveaway, I'll be giving away this trendy nerdy specs from Les Moda's latest collection. All you need to do is to follow us on Instagram and Like us on Facebook. Easy right? See the detailed mechanics below.
HOW TO JOIN?
1. Like My Page:

2. Like Les Moda's Page:

3. Follow My Instagram (@IAMTHEDOLL)

4.Follow Les Moda's Instagram (@LESMODA)

5. Comment on this poster (See photo above) on my Instagram Account (@IAMTHEDOLL) with "JOINED!" so we can track all the entries.
Don't forget to comment with the following below:
1. Name:
2. Email Address:
3. Instagram ID:
4. Facebook URL:
Giveaway will end on July 31, 2013 11:59 PM. Winner will be chosen via randomizer.org and will be announced on August 1, 2013. Giveaway is OPEN WITHIN THE PHILIPPINES ONLY. Good luck loves! :kiss: