Earlier Days on Instagram (iamthedoll) – I got a new watch from a special person then I also received new packages from OASAP, SUGARLIPS and NALEIGH (which means there will be more outfit posts coming soon). Then I also bought myself a new conditioner from Dove. I heard a lot of nice reviews on this conditioner so I wanted to try it out myself. Then we had a video project shoot along with my fellow ZC Bloggers and I brought Chacha and JunJie with me. The following day, I decided to trim my Jai Li's hair and now she looks like a Yorkie. LMAO! :bib3: To end the day, I cooked boyfie's favorite pasta… My homemade tuna pasta. :love:
"A key to a man's heart is through his stomach…" :bib14: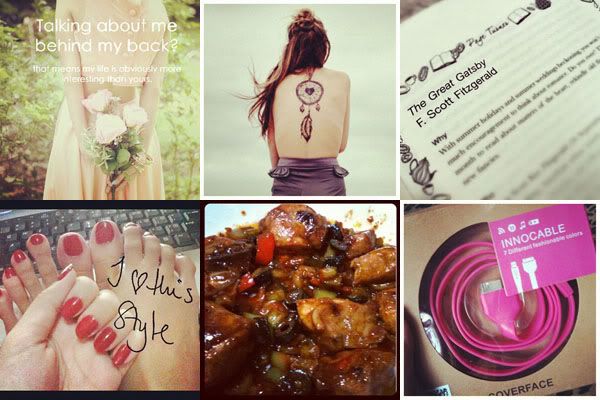 The next day, I had another outfit shoot at home featuring a lovely dress from Lulus and fancied a new shot for my social networking accounts PP. :bib21: I also found a very cool photo of girl with a dreamcatcher tat at the back. (This got me thinking…) I also discovered a new hobby of reading/collecting new books to somehow expand my vocabulary. :bib1: Then decided to paint my nails to red for a change. hihi… Cooked Moroccan Chicken for the second time and this time, it turned out GREAT! :uptum: And oh, I also have a new flat USB Cable/Charger for my iPhone! yay! Thanks to ENSOGO. :love: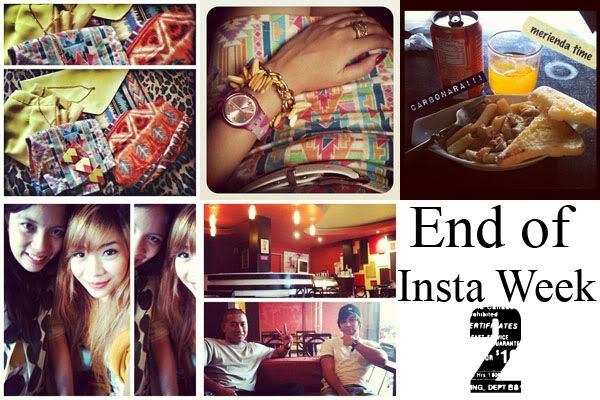 This morning, I received a surprise package from BUBBLES. I'm loving the neon and tribal prints they've sent me! :love: And since I had a coffee date schedule with my friend @bunchofsky, I decided to wear the tribal skirt they've sent me. And I'll be posting the outfit post after this entry. :uptum: I had my favorite Carbonara from Cafe Ave for merienda & dinner at the same time but I missed their Red Velvet Cake. *booooo!! And finally a decent pic with my lalabs @bunchofsky. :kiss2:
So that's the end of my #InstaWeek 2, now let's proceed to the announcement of my 2 Giveaways Winners.

The 3 Winners for my Hodge Podge Giveaway are…

Congratulations to the first 2 winnersHazel and Angie!
And since the other number in that draw above happens to be an international participant, I had to do the draw again. Unfortunately this giveaway was not indicated to be open internationally so winners should be Philippines based only. I would like to apologize for this but don't worry, I'll be doing another giveaway tomorrow which will be OPEN INTERNATIONALLY. :uptum:
So the other winner to this giveaway is… Angelique Misa! Congratulations!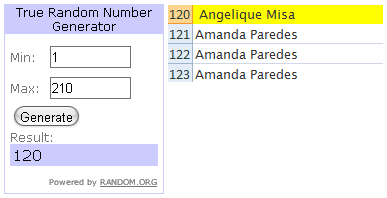 And for the lucky winner to my Four Sisters Giveaway…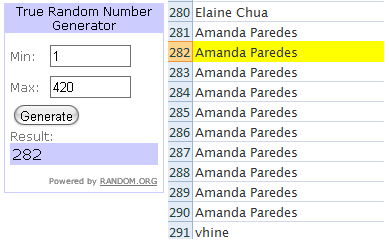 Congratulations again Amanda!!!
To all the winners, please email me with the following details within 24 hours at

dollie.xoxo@yahoo.com. :down:
Name:
E-mail:
Address:
Facebook Url:
And again… Thank you to all who joined my giveaways! :love:
I will be posting another giveaway tomorrow, so stay tuned. :kiss: