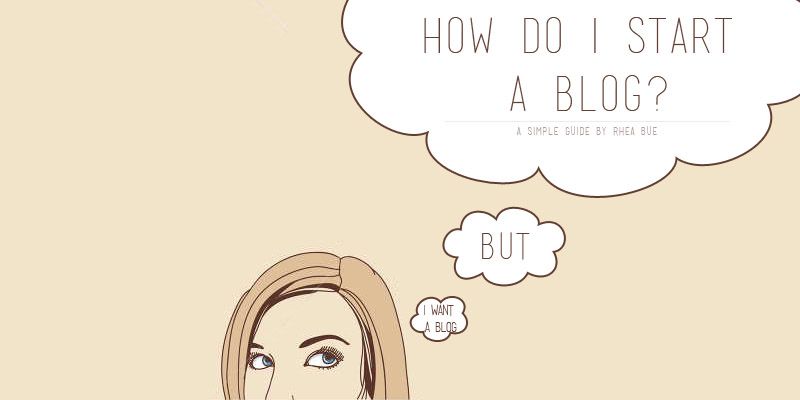 Since I'm getting a lot of questions on how I started blogging and what not, I decided to do a simple infographics for everyone and share my simple guide on how to start your own blog too.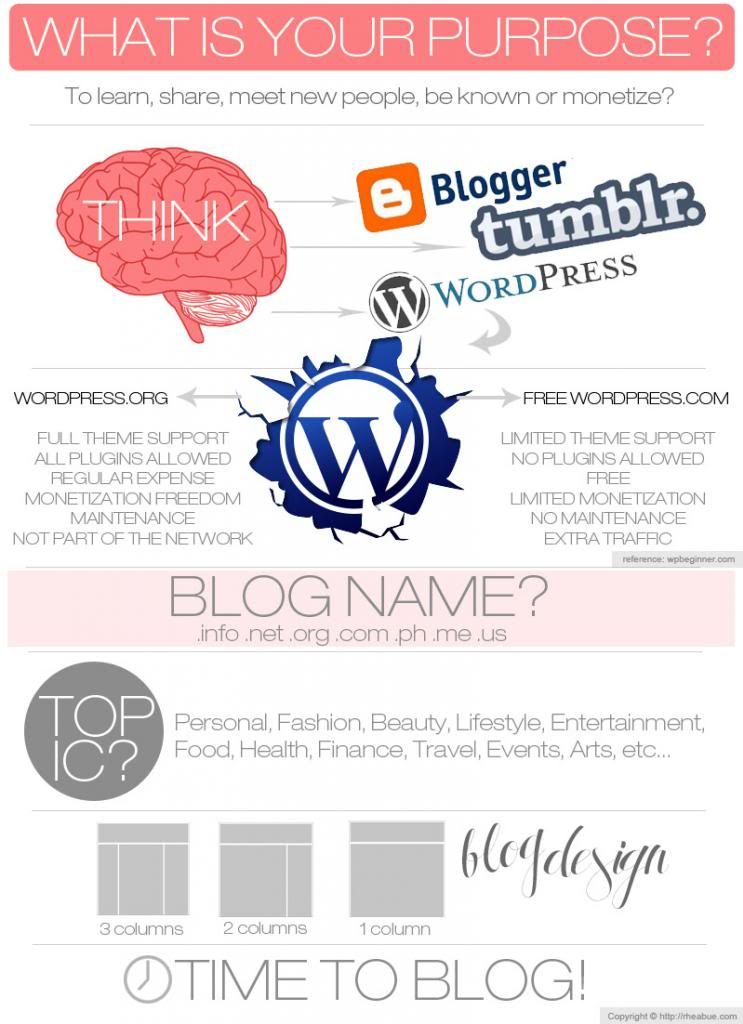 PURPOSE:
Simply ask yourself, "Why do I want to blog?". Give it a purpose because blogging is not one-sided. Blogging is supposed to be two-sided. It's between you and your readers.

BLOGGING PLATFORM:
You have to decide which blogging platform to use. If you want something easy and free, go for Blogger. And if you want more interaction or you enjoy doing re-blogs, go for Tumblr. As for me, I decided to go for WordPress.org. Why? (See benefits below)

WORDPRESS.ORG vs WORDPRESS.COM:
With WordPress.org (also known as the self-hosted blog), I can have full theme support and enjoy tweaking all codes for my blog's pages. I am also free to try all of their plugins to add extra effects to this blog. Though I still have extra expenses to pay like my own domain name from godaddy.com and a hosting service from secretkiss.org to keep the site up (So I pay around $50+/year). Despite having this extra expenses, I also do earn extra $$$ to sustain my needs and this blog's needs. I can monetize freely without sticking to any rules like the ones with WordPress.com. And since it would be a self-hosted blog, I am responsible for the maintenance and all. And the only down part is, I am not really part of the network. Unlike in WordPress.com, Blogger and Tumblr, you can really follow each other's blog and this really helps you bring traffic to your blog. As for me, I have to do it manually by dropping comments on other people's blog to let them know that WE (me and my blog) exist.

BLOG NAME:
What do you want to call your blog? Always think of something that you wouldn't regret and want to change at the end. Changing domain/blog names isn't really simple. If you have established a name in the blogsphere, it would be really hard to change to another and gain the SEO value you had with your old domain/blog name.

TOPIC:
Again ask yourself, "What do I want to blog about?" and "What do I love doing the most?". With these questions, I believe it will really help you decide the perfect topic for your blog. Well you can always mix 2-3 topics on your blog that somehow relates to one another. Like I chose to go for Fashion & Beauty since I think that they really go well together.

BLOG DESIGN:
Blog design is part of the whole process. A good blog design, helps you boost your confidence to blog more and share your blog with other people. It will also keep your readers from coming back to your blog. Now if you're the very minimalist type, you can go for the one-columned layout. This will highlight all your posts. And if you're the slightly minimal type, go for the 2-columned layout. This is perfect for those who keeps their Google Friend Connect, About Me Details, Social Networking buttons and what not at their sidebar. Just remember to keep it clean as possible. Now if you're the type who gets a LOT of things going on and you simply want to share everything, go for the 3-columned layout.

TIME TO BLOG:
Now once you're settled with everything and you feel like you're ready to expose yourself to the WWW (world wide web). Then it's definitely time for you to start blogging! :uptum:
Well I really hope this simple (take note: SIMPLE) haha.. Infographics helped you somehow and if you want me to do more of this, feel free to drop me a line below or email me at info@rheabue.com.