I guess it's pretty much difficult for me to blog (consistently) and have my NLE review at the same time. :bib24: I know I have a few hours left to blog as soon as I reach home. But I realized that sometimes, I just want to spend some time with my books and just relax. :bib16:
I wasn't really expecting our review sessions to be that easy. 2 days down and in those days, I have surely learned a LOT already! :bib16: I never thought that I would have this feeling of "seriousness" and dedication to my review. I seriously wanna pass the board exam. :pup:
Anyway, I claimed 2 packages from the post office today.. One was a pair of circle lenses and the other package was this set of charm bracelets from cutey. :love: So today, before I go to bed, I would like to do a short review on their charm bracelets. :sparkle:

SHOP OVERVIEW:
According to their site, cutey was founded in 2011 to provide a quality range of customisable jewellery. Our initial range is designed as an everyday accessory that can be used at any time. The range is designed with the ability to be easily changed, allowing the jewellery to be changed based on mood, time or outfit." :bib18:
"Our pieces feel weighty and expensive – you'll certainly know you've got cutey on your wrist – yet they're priced to keep the joy in your investment."
SHIPPING & PACKAGING:

I think their shipping service was fast! I waited for at least 7 days till the package arrived here in the Philippines. :love:
The packaging was simple but the bracelets were all intact. I love their tags and their business card! It looks so sleek and very professional! :uptum:
DESIGNS:

PONTUS

Quick Overview:
Maybe you love the sea because you remember falling asleep to its sound. Or perhaps you live far from it, but long for it fifty weeks of the year. Pontus offers you oceanic blues and the calmest of sea creatures, just dangling from your wrist, waiting to be played with in a stolen moment.

18cm chain length.
Price: £12.99

COMMENTS: I'm not really a fan of blue so prolly that's the reason why I didn't really appreciate this design. But I think this is very wearable on summer days! :love:
OIZYS


Quick Overview:
This rich and unusual bracelet is full of remembrance, memory and wisdom. Perhaps this will help to mark an occasion, a lesson learned, a salutary experience, a person, in a way which brings joy and beauty to its owner.

18cm chain length.
Price: £12.99

COMMENTS: I love the design! Somewhat reminds me of a tribal or Aztec feeling. :bib16:
EROS

Quick Overview:
The God of Love and all that means – pinks and greens, hearts and kisses, this piece celebrates love. If you're a man, your woman will love it. If you're getting married, this will remind your special girls of your day. Romantic, unashamedly female and full of unmistakable romance.
18cm chain length.
Price: £12.99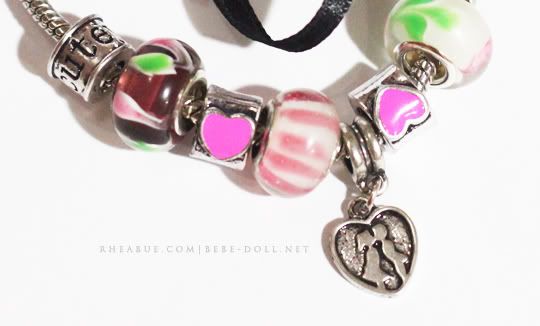 COMMENTS: My favorite among the three! I really love the details of this bracelet especially the pendant! It looks very sweet! :love:

QUALITY: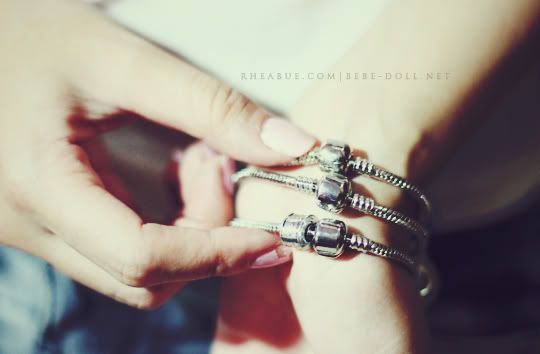 The bracelets were a bit heavy. And the locks were all secured. The bracelet is made out of good and durable materials and that's the reason why it's heavy than the usual charm bracelets out there. :sparkle:
OVERALL:
Disclaimer This set of charm bracelet was generously sent to me by cutey for review purposes. :love: