Last night after a long day of intense digital works and what-not, I gave myself a break with a dose of my favorite the – STREET STYLE. And guess who's on my top-list? Miranda Kerr it is! :uptum: After browsing half of her looks, I got inspired and came up with some fashion tips for everyone.
The Boyfriend Look
For this look, I call it the "Boyfriend Look" because of the jeans. HAHA! Well I couldn't think of a nice way to call this so yeah. LMAO! For the boyfriend jeans, a sexy thin strap heels from ZARA is a perfect match for this. No matter what your top is, a simple shirt or blouse would still work! yes? YES!
Miss Leatherette
I have never tried sporting any leather jeans yet though but as I was browsing some looks last night, I appreciate how it makes a perfect pair to wear on streets. If you're after for the classy look, grab your pair of sexy pumps. And if you're after for the edgy look, simply pair this jeans with your favorite boots. Givenchy anyone??? :hahaa: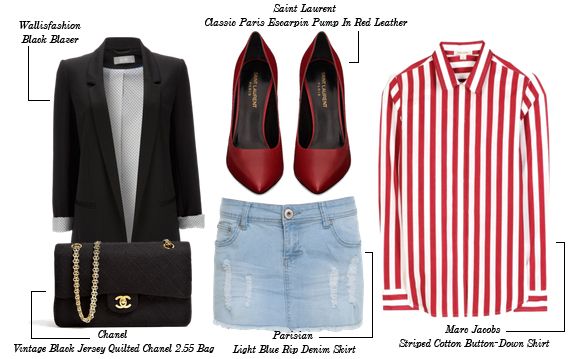 Stripe-ster Lover
Street style is not just about pants. With this ensemble I wanted to play with the denim skirt that would give you a more classy and sophisticated look instead of the usual casual look. A black blazer would definitely help you achieve a "Classy City" girl look and don't forget your pair of Scarpin for this!
Which among the three is your favorite look?